Councillor Mary Blakely
Councillor Mary Blakely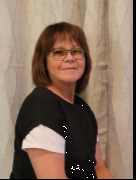 807-853-2601
Mary is an Elder of Animbiigoo Zaagi'igan Anishinaabek.
Mary and husband John have lived in Nipigon, but spend weekends and the summer at the Lake Nipigon Reserve.
Mary has 2 children and 4 grandchildren. She loves to spend time with and share her knowledge and history with them.
Mary holds a Native Language Teacher Degree and works with communities and tribal councils providing Native Language Classes. She is passionate about the Language and Culture, and wishes to bring these back to our community.
Mary's work experience as a teacher is helping her to plan, organize and carryout the duties she has as a Councillor.
Mary holds the following Portfolios;
Culture & Language
Justice
Mary has been active on the Nokiiwin Justice Steering Committee, gathering and sharing information on programs and services available to those involved in the justice system and their families. Mary has helped to coordinate and facilitate Healing Circles as a part of the justice program through Nokiiwin Tribal Council.
Mary also takes part in many other meetings and issues that the Chief and Council deem important or necessary.